Free Website Content Counter


Introducing Website Content Counter: Your Ultimate SEO Content Analyzer

Unlock the true potential of your website's SEO strategy with Website Content Counter, the cutting-edge web-based software tool designed to revolutionize your digital marketing efforts. Say goodbye to manual content analysis and welcome a new era of efficiency and precision.

Website Content Counter is an indispensable companion for website owners, digital marketers, and SEO enthusiasts. With its advanced algorithms and user-friendly interface, this powerful tool scans every page of your website, meticulously counting and analyzing the amount of content present. From blog posts and landing pages to product descriptions and FAQs, Website Content Counter leaves no stone unturned, providing you with comprehensive insights into your website's content landscape.

Unleash the full potential of Website Content Counter with its key features:

Accurate Content Count: No more guesswork! Website Content Counter ensures precise content counting, helping you gauge the size and depth of your website's content. By tracking content growth over time, you'll have tangible data to measure your SEO progress and identify areas for improvement.

SEO Competitor Analysis: Stay ahead of the curve by gaining a competitive edge. Website Content Counter allows you to scan and compare your website's content with that of your competitors. Analyze their content volume, identify content gaps, and fine-tune your strategy accordingly. Take advantage of the valuable insights to refine your content and outrank your rivals in search engine results.

User-Friendly Dashboard: With a sleek and intuitive interface, Website Content Counter makes content analysis a breeze. Navigate through your website's pages effortlessly, view detailed reports, and gain actionable insights—all at your fingertips. Save time and effort with a tool that prioritizes usability without compromising on functionality.

Customizable Reporting: Website Content Counter enables you to generate comprehensive reports tailored to your specific needs. Whether you want to share progress updates with stakeholders or assess the impact of your content marketing campaigns, our customizable reports ensure you have the right data at your disposal.

Website Content Counter empowers you to take control of your website's SEO destiny. By providing accurate content analysis, in-depth insights, and seamless competitor comparisons, it's the ultimate tool to unlock your website's true potential.

Don't let your SEO efforts fall short. Embrace Website Content Counter today and elevate your digital presence to new heights. Experience the power of data-driven decision-making and watch your website climb the ranks of search engine results.
Start using Website Content Counter
What does Website Content Counter look like?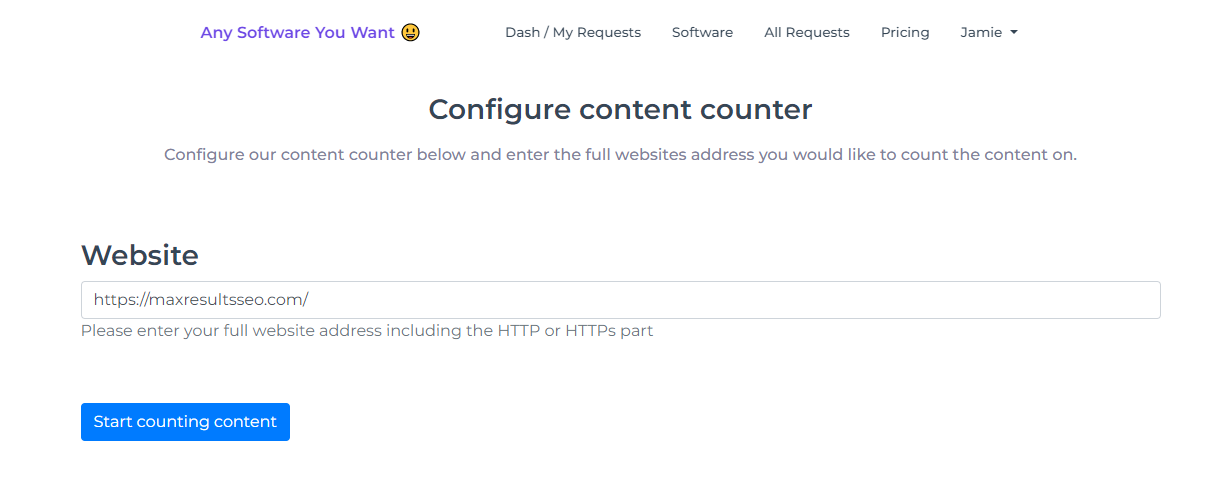 Start using Website Content Counter