Free Real-time YouTube Keyword Miner


Introducing Real-Time YouTube Keyword Miner: Uncover Trending Topics for Your YouTube Videos Instantly!

Are you a content creator struggling to find fresh and trending topics for your YouTube videos? Look no further! Real-Time YouTube Keyword Miner is a cutting-edge web-based tool designed to revolutionize your video content strategy. Say goodbye to guesswork and dive into the minds of your audience with real-time insights from the YouTube Auto Suggest feature.

Discover High-Impact Keywords and Topics:
Real-Time YouTube Keyword Miner harnesses the power of YouTube Auto Suggest to deliver a goldmine of valuable keywords. By analyzing the search queries of millions of YouTube users in real-time, this innovative tool presents you with a comprehensive list of trending keywords and topics that your target audience is actively searching for. Get ready to create content that captivates and engages your viewers like never before!

Refine Your Results with Advanced Filters:
We understand that not all keywords are relevant to your content strategy. With Real-Time YouTube Keyword Miner, you have the ability to apply intelligent filters that remove unwanted results based on specific words or phrases. This feature allows you to streamline your research process and focus solely on the most promising and relevant keywords for your video content.

Export with Ease:
Time is of the essence, and we want to make sure you can take your keyword research wherever you go. Real-Time YouTube Keyword Miner lets you export your results effortlessly. With just a few clicks, generate a downloadable file containing all the valuable keywords you've mined. Seamlessly integrate this data into your preferred video optimization tools and stay ahead of the competition.

Maximize Niche Opportunities with Prefixes:
Do you want to uncover niche-related keywords that can set you apart from the crowd? Real-Time YouTube Keyword Miner empowers you to add prefixes to the words used, revealing an extensive range of highly targeted and untapped keywords. By leveraging this capability, you'll be able to create videos that cater to specific interests and corner the market in your niche.

Intuitive Interface and Stellar Support:
Real-Time YouTube Keyword Miner is designed with your convenience in mind. Our user-friendly interface ensures that you can dive right into keyword mining without any hassles. Plus, our dedicated support team is available to assist you at every step of the way. We are committed to your success and strive to provide a seamless experience, so you can focus on what matters most—creating exceptional video content.

Don't miss out on the hottest video topics and the most relevant keywords for your YouTube channel. Embrace the future of video content strategy with Real-Time YouTube Keyword Miner. Try today to explore real-time insights, apply filters, export results, and unlock unlimited niche-related opportunities. Unleash your creative potential and engage your audience like never before!
Start Real-time YouTube Keyword Miner
What does Real-time YouTube Keyword Miner look like?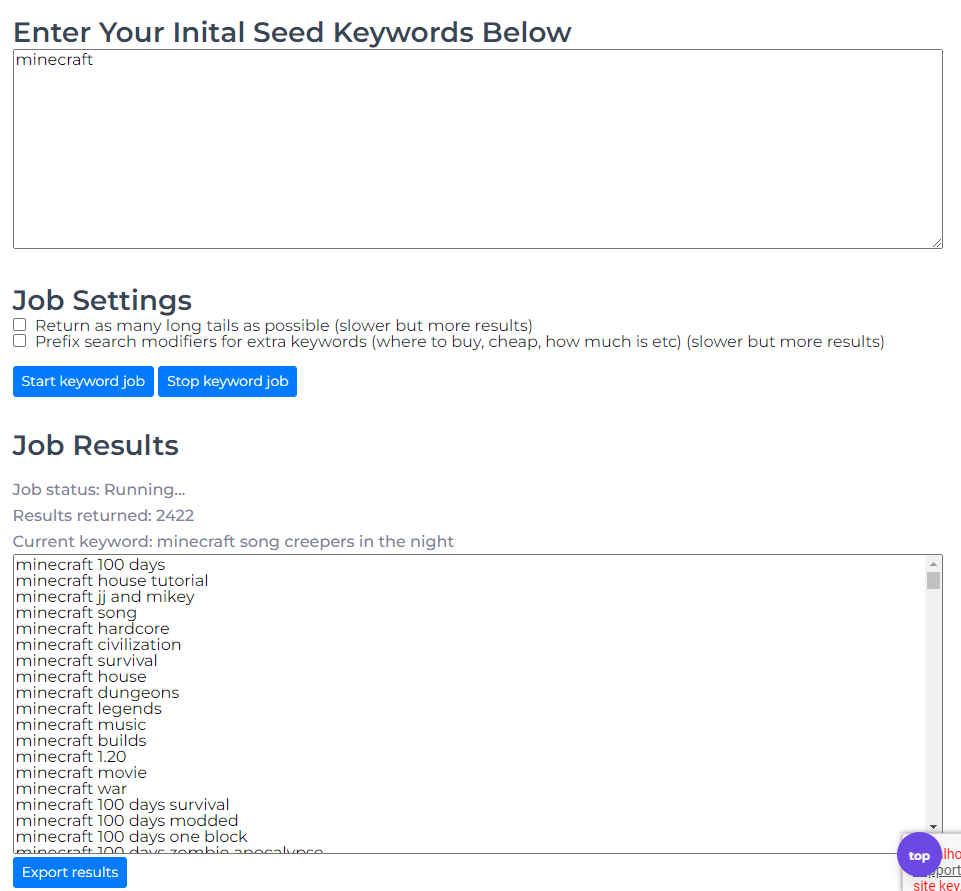 Start using Real-time YouTube Keyword Miner